Event
Research meetings
Research meetings
2019 JST CREST Research Area [Mathematical Information Platform] Project Kickoff
International Conference "Evolving Design and Discrete Differential Geometry —
towards Mathematics Aided Geometric Design"
Date

March 6 (Fri.) - March 8 (Sun.), 2020

Venue

Room 01, Department of Architecture and Architectural Engineering No.2
Building, Korimoto Campus, Kagoshima University
1-21-24 Korimoto, Kagoshima 890-8580, Japan


Speakers

Tutorial lectures:


Takuya Tsuchiya (Ehime University) "Finite element approximation of the classical Plateau problem"
Sampei Hirose (Shibaura Institute of Technology) "On the relationship between discrete differential geometry and finite element method"


Invited lectures:


Yoshihiro Kanno (University of Tokyo) "Accelerated Gradient Methods for Problems in Nonsmooth Mechanics"
Jingyao Zhang (Kyoto University) "Morphology Analysis of Spatial Structures with Discrete Elements"
Konrad Polthier (Freie Universität Berlin, Germany) "Geometric Data Analysis"
Yoshinobu Miyamoto (Aichi Institute of Technology)"Origami Space-Time: Folding in Art and Science"
Gobithaasan Rudrusamy(Universiti Malaysia Terengganu)"A Revisit on Merging Geometric Modeling with Topological Data Analysis"
Shizuo Kaji (Kyushu University) "Discrete surface deformation with a specified Gaussian curvature"


Banquet

Date: March 7(Sat.), 2020
Vanue: Kagoshima University
Fee: JPY 6,000
Deadline: February 20 (Thu.), 2020 (deadline has been extended)


Registration

Registration fee is free of charge.

March 6

th
AIMaP Session "Fusion of Discrete Differential Geometry and Finite Element Method: Applications to Architecture and CG"
Tutorials for the Finite Element Method( in Japanese )
10:00 - 11:10

Finite element approximation of the classical Plateau problem (1)

Takuya Tsuchiya(Ehime University)

11:20 - 12:30

Finite element approximation of the classical Plateau problem (2)

Takuya Tsuchiya(Ehime University)

Lunch Break

13:40 - 14:50

On the relationship between discrete differential geometry
and finite element method (1)

Sampei Hirose(Shibaura Institute of Technology)

15:10 - 16:20

On the relationship between discrete differential geometry
and finite element method (2)

Sampei Hirose(Shibaura Institute of Technology)
AIMaP Session "Fusion of Discrete Differential Geometry and Finite Element Method: Applications to Architecture and CG"
Mathematics of Industrial Design( in English )
16:30 - 17:00

A Revisit on Merging Geometric Modeling with Topological Data Analysis

Gobithaasan Rudrusamy(Universiti Malaysia Terengganu)

17:00 - 17:30

Discrete surface deformation with a specified Gaussian curvature

Shizuo Kaji(Kyushu University)
March 7

th

( in English )
AIMaP Session "Fusion of Discrete Differential Geometry and Finite Element Method: Applications to Architecture and CG"
Mathematics of Structural Design
10:00 - 11:00

Accelerated Gradient Methods for Problems in Nonsmooth Mechanics

Yoshihiro Kanno(University of Tokyo)

11:10 - 12:10

Morphology Analysis of Spatial Structures with Discrete Elements

Jingyao Zhang(Kyoto University)
CREST ED3GE Session
13:30 - 14:00

Evolving Design and Discrete Differential Geometry

Kajiwara Group(Kyushu University)

14:20 - 14:50

Formulation of free curves and surfaces by Klein geometry and application to practical use

Miura Group(Shizuoka University)

15:10 - 15:40

Generation of piecewise developable surfaces based on the surface normal map images

Maekawa Group(Waseda University)

16:00 - 16:30

Architecture structure superior in construction feasibility and mechanical rationality

Homma Group(Kagoshima University)

Banquet

ー
March 8

th

(in English)
CREST ED3GE Session
Plenary Talks
10:00 - 11:00

Geometric Data Analysis

Konrad Polthier(Freie Universität Berlin, Germany)

11:20 - 12:20

Origami Space-Time: Folding in Art and Science

Yoshinobu Miyamoto (Aichi Institute of Technology)

Lunch Break

ー

13:30 - 14:00

Design and optimization of piecewise smooth surfaces by using the variational principle of discrete differential geometry

Ohsaki Group(Kyoto University)

14:20 - 14:50

Design of developable shapes with folding along the space curves

Mitani Group(University of Tsukuba)
Organizers

Kenji Kajiwara

(Kyushu University) (Chair)


Makoto Ohsaki 

(Kyoto University)


Toshio Honma

(Kagoshima University)


Youhei Yokosuka

(Kagoshima University)


Kenjiro Miura

(Shizuoka University)


Takashi Maekawa

(Waseda University)


Jun Mitani

(University of Tsukuba)


Jun-ichi Inoguchi

(University of Tsukuba)



This conference is supported by the 2019 CREST research area [Mathematical Information Platform] project
"Evolving Design and Discrete Differential Geometry — towards Mathematics Aided Geometric Design"
Co-sponsors

Institute of Mathematics for Industry, Kyushu University
Graduate School of Science and Engineering, Kagoshima University

Supporter

Japan Science and Technology Agency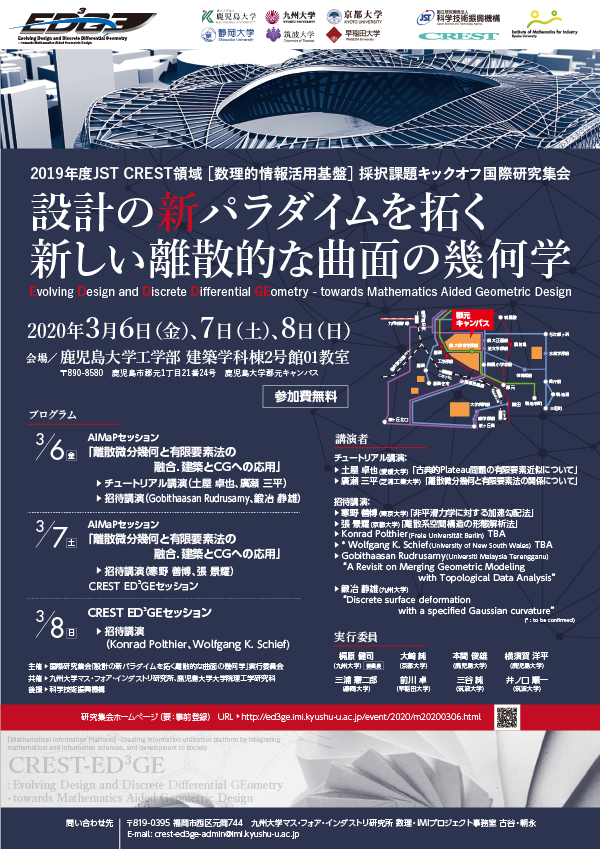 2019 JST CREST Reearch Area [Mathematical Information Platform] Project Kickoff
International Conference "Evolving Design and Discrete Differential Geometry —
towards Mathematics Aided Geometric Design"
Return to Top Page